Today's review is on The Sea-Keeper's Daughters by Lisa Wingate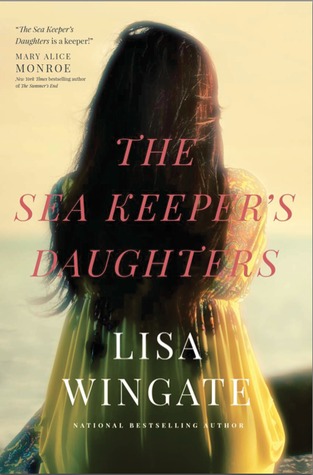 I really enjoyed this book. I loved how it was a mix of narrative and letters. Personally, I like reading books written in an epistolary style. I thought it was cool how the present-day story was the narrative and the story set in the past was told in letters. I also loved the mystery surrounding the letters.
This novel is about a restaurant owner, Whitney Monroe who is having to close down one of her stores due to a corrupt businessman. She then gets a phone call that her estranged step-father is in the hospital and she has to travel to Roanoke to help him out. He lives in the Excelsior hotel that used to belong to her grandmother, and later her mother, she starts sifting through all the stuff that has accumulated over the years in order to get the hotel ready to sell and comes across an old suitcase filled with letters written to her grandmother written by a woman that she had never heard about. She starts reading through the letters and reads the story from the 1930s that involved a great-aunt that she had never heard about.
I really enjoyed the characters, but Whitney was my favorite: she was three-dimensional and a lot of what she experienced was realistic. It was interesting to see the long-lasting effects of suicide on the loved ones of an individual, especially the children of someone who has committed suicide. Whitney is still dealing with the aftermath of her father's suicide even though she was a young girl when it took place. I also liked her step-dad even though he was kind of ornery.
I liked seeing how the first two books in this series are connected to the this book, even though each book can be read as a stand-alone novel. I also loved the opening lines of this book because is what hooked me when I started reading it, "Perhaps denial is the mind's way of protecting the heart from a sucker punch it can't handle. Or maybe it's simpler than that, Maybe denial in the face of overwhelming evidence is a mere byproduct of stubbornness" (p.1). 
I also enjoyed learning about a piece of history that I had never really heard of before – FDR's Federal Writer's Folklore Project and in the '30s people were hired by the government to travel and record the stories of people who have stories to tell that could disappear. I also loved finding out more about the Melungeon Native Americans and their possible origins.
If you enjoy history, especially the Depression-era then definitely give this book a shot. I am gave this book 5/5 Stars because it drew me in from the very first page!
Happy Reading,
Janelle L. C.
P.S. If you have any book recommendations let me know and I will check them out! 🙂