Today's review is on Fangirl by Rainbow Rowell.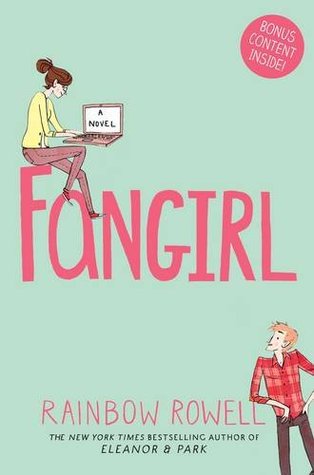 Honestly, this was one of the hardest books I had to get through, not because it was dense, but  there were just a few elements that I didn't like. I both loved and hated it. And it is also the hardest book for me to review.
Fangirl is all about the main character's first year at college and how she is forced to get to know new people when her sister decides that she doesn't want to be roommates with her. She also has to learn how to juggle the demands of school and keep up with the fan fiction that she
One thing I didn't like was the fact that it is never explained why Cath decided to go the particular direction with her fan fiction that she did. I also didn't like the swearing, but at the same time I appreciate the fact that there weren't a lot of statements that said "he swore under his breath." Rowell's decision to write the swear words out made the story more realistic – however, I still don't like it. The passages from the fictional Simon Snow series at the beginning of each chapter was also kind of annoying.
I loved how relatable Cath was, and I loved how her and Wren (her twin sister) were foils to each other. I enjoyed Cath and Levi's relationship as it developed throughout the novel, although I feel like he was a bit of jerk sometimes. Cath could also be annoying and almost whiny at times. Even though Regan was a typical "bad girl", I loved the observations she made because they were so funny but true.
I didn't see what the big deal was about this book because it is very popular. This was my first book by the author and I don't know how I feel about her writing, I think I will have to read another one of her works in order to make a final decision. However, I don't know if I would necessarily recommend it to anyone.
I am giving this book 2.5/5 Stars because I liked it and I didn't like it at the same time.
Happy Reading,
Janelle L. C.
P.S. If you have any book recommendations, let me know! 🙂