Today's review is on A Daring Sacrifice by Jody Hedlund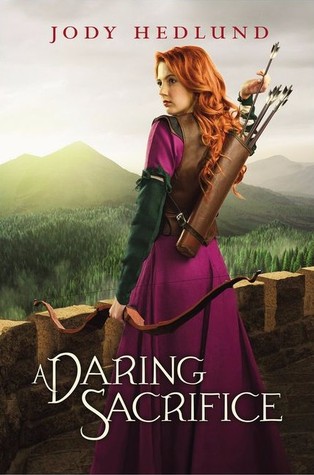 Even though this is a sequel to An Uncertain Choice, it can be read as a stand-alone novel because it is about a different set of characters – the only connection to the first book is that the male lead, Collin Goodrich was one of the knights that tried to win Lady Rosemarie's hand.
This takes place some time after An Uncertain Choice, but I don't know how long after it. It follows Juliana Wessex, who used to be a noblewoman, but after her father was killed by her wicked uncle she has been on the run and steals from the rich to give to the poor, so in a way she is a Robin Hood-esque character. However, one day she robs Sir Collin Goodrich and, after another event, he challenges her to live one week live in his manor as Lady Eleanor Delacroix in exchange for some gold. The first 60% of this book deals with this challenge and then there are some other things that happen that I cannot write about because they are spoilers.
I liked Juliana, the author did a good job of showing her battling with living a week as a noblewoman, as well as trying to justify being a thief. Over the course of the novel, she starts to realize that not all noblemen are ruthless like her uncle and that stealing from the rich is not necessarily a good thing. She has compassion for the peasants that have been oppressed by her uncle and she wants to help them, no matter what.
Collin was an interesting character, I didn't really like him. There were times that he sounded more like a woman than a man. I also hated how he seemed to compare his trying to win Juliana's love to how he tried to win Lady Rosemarie's love in An Uncertain Choice…I just didn't like how he kept comparing the two. However, near the end of the book he kind of redeems himself.
One of the minor characters that annoyed me so much was Irene, Collin's sister. I did not like her at all, she is just an awful character at first, however near the end she is kind of redeemed – although, it is never stated what happens to her at the end.
Plot-wise the novel was just okay. It wasn't as good as An Uncertain Choice. There were a few plot twists but they were pretty obvious, and the reader finds out who the villain is in the first few pages so there is no surprises. I could see that the author tried to have plot-twists, but the kind of fell flat because it was obvious what was going to happen. I didn't like that there was an insta-love that happened between Juliana and Collin, I just don't like that kind of thing.
The Epilogue was used as a build-up to the next novel, which I hope is coming out next year, but honestly it wasn't as good as the build-up to this novel at the end of An Uncertain Choice. However, it was enough to peak my interest to find out what exactly is happening to Sir Bennett and his family.
I am giving this book 3.5/5 Stars because it was good but not great and there were several things that bugged me while I was reading it. However, Jody Hedlund does a good job of transporting the reader into the medieval era. I am looking forward to book 3 in this series.
Thanks to NetGalley and Zonderkidz for providing me with an ARC of this book in exchange for my honest review.
If you would like to read my review of An Uncertain Choice click here.
Happy Reading,
Janelle L. C.
P.S. If you have any book recommendations let me know and I will check them out! 🙂