Today's review is on A Court of Thorns and Roses by Sarah J. Maas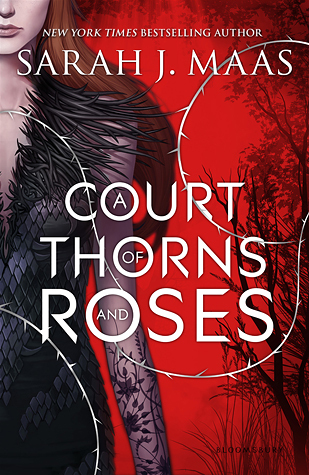 I have been wanting to read this book since I heard about it a year ago and I finally got a chance to when one of the groups I belong to on Goodreads decided to read it this month. I really enjoyed this book, if you enjoyed Throne of Glass you will enjoy this book. There are a few steamy scenes in this book, but besides that it was really good.
Once again Sarah J. Maas builds another awesome world without the descriptions being too cumbersome. It is a retelling of three fairy-tales/folk tales: Beauty and the Beast; Tamlin (which is a Scottish ballad, I think); and East f the Sun, West of the Moon. It takes place in a world where both fae and humans live, except they live in different areas and the humans hate the fae. The main character Feyre kills a wolf, which happened to be one of the fae and as a result she has to go live among them as punishment. However, she soon discovers that not everything that she was told about the faerie world is necessarily true, as she lives in the house of one of the High Fae, Tamlin.
As I mentioned before, the world-building in this book is great, and I also appreciate how there is a map of this world at the beginning of the novel so that readers can see the various places where the novel takes place.
So much happens in this book, however it does start off kind of slow. The plot takes so many twists and turns I wasn't expecting, especially in the last 150-200 pages which was really unexpected. There is of course romance, however it isn't really insta-love, which is common in most books. The romance develops over the course of most of the novel. I cannot say anything more about it because otherwise it might spoil some other plot points.
The characters were really enjoyable, except Rhysand, who is introduced later on in the novel, and of course the other villains. I enjoyed seeing how Feyre develops throughout the novel, especially in her relationship with her family and her relationship with Tamlin. Lucian was also a pretty cool character, even though he came across as a jerk most of the time, it was still enjoyable to his development as a character.
I really need to read A Court of Mist and Fury (the sequel), but I don't know if I could wait a whole year for the third book to come out if I really like it. But I am planning on reading it soon-ish.
I am giving this book 4/5 Stars because there was great world-building and character development and I didn't want it to end. However, the several steamy scenes made me feel a bit uncomfortable and didn't really seem necessary.
Happy Reading,
Janelle L. C.
P.S. If you have any book recommendations, let me know and I will check them out 🙂